Enterprise Resource Planning (ERP)
In order to gain a comparative advantage an enterprise need to focus on each and every function. Internal efficiency lays the basis of cost reduction, quality control, increase productivity and removal of waste, the result is higher customer satisfaction, business growth and greater profits. This was the basic idea behind iDEV Enterprise Resource Planning (ERP).

SALIENT FEATURES:
iDEV ENTERPRISE RESOURCE PLANNING SYSTEM CONSISTS OF FOLLOWING INTEGRATED MODULES:
Administration /Security
Financial Accounting system
Import Management system
Inventory Management system (Raw material & Finished Goods)
Human Resource Management system
Production Management System
(PPC)
Sale Management system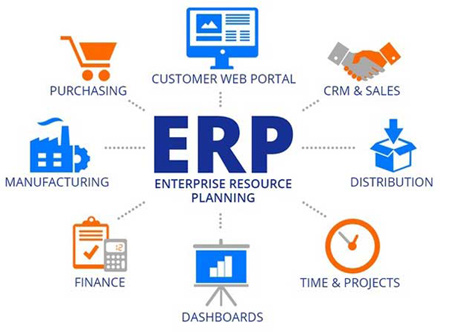 WHY Choose iDEV (ERP) SOLUTION?
iDEV Enterprise Resource planning (ERP) Solution is ideal choice for any organization because:
It is a typical example of a flexible system that can be deployed anywhere from production to service oriented organizations.
It can easily add/remove modules according to need and choice of user.
It's cost effective .
It provides full control of all the activities to top level management.
It has a proven record of remarkable growth and profit generation for the organizations where it was implemented.
iDEV ERP Advantages
iDEV ERP includes:
A totally integrated system.
The ability to streamline different processes and workflows
The ability to easily share data across various departments in an organization
Improved efficiency and productivity levels
Better tracking and forecasting
Lower costs
Improved customer service
Integrate Financial Information
Integrate Customer Order Information and Store Customer History
Streamline the manufacturing process
Standardizing HR Information
Store and Analyze productivity information for employees and facilities
Allow inter-departmental process monitoring and reporting
Reports with data from across the organization
Allow Marketing and Management to monitor and analyze all stages required to provide the clients with the client with products and services
Allow users limited and monitored access to data across the organization according to needs.
ERP: Beneficial for the Management, Marketing and Employees
MANUFACTURING:
Engineering
Bills Of material
Scheduling
Capacity
Workflow Management
Quality Control
Cost Management
Manufacturing Process
Manufacturing Projects
Manufacturing Flow
SUPPLY CHAIN MANAGEMENT:
Order To Cash
Inventory
Order Entry
Purchasing
Product Configuration
Supply Chain Planning
Supplier Scheduling
Inspection Of Goods
Claim Processing
Commission Calculation
FINANCIALS:
General Ledger
Cash Management
Accounts Payable
Accounts Receivable
Fixed Assets
CUSTOMIZATION:
Meet the Extension
Addition
Change in Process Flow
PROJECT MANAGEMENT:
Costing
Billing
Time and Expense
Performance Units
Activity Management
HUMAN RESOURCES:
Human Resources
Payroll
Training
Time and Attendance
Roistering
Benefits Icon
CRM
Sales and Marketing
Commissions
Services
Customer Call Center Support
DATA WAREHOUSE:
Various self Services
Interfaces for Customers
Suppliers
Employees
ACCESS CONTROL:
User Privilege
Authority Levels
Process Execution